Temu Is Most-Downloaded Shopping App in the US – Marketplace Pulse
Temu is the most-downloaded shopping app in the U.S. Launched by China's Pinduoduo in early September, it is the latest marketplace to bring China-made goods to Western consumers.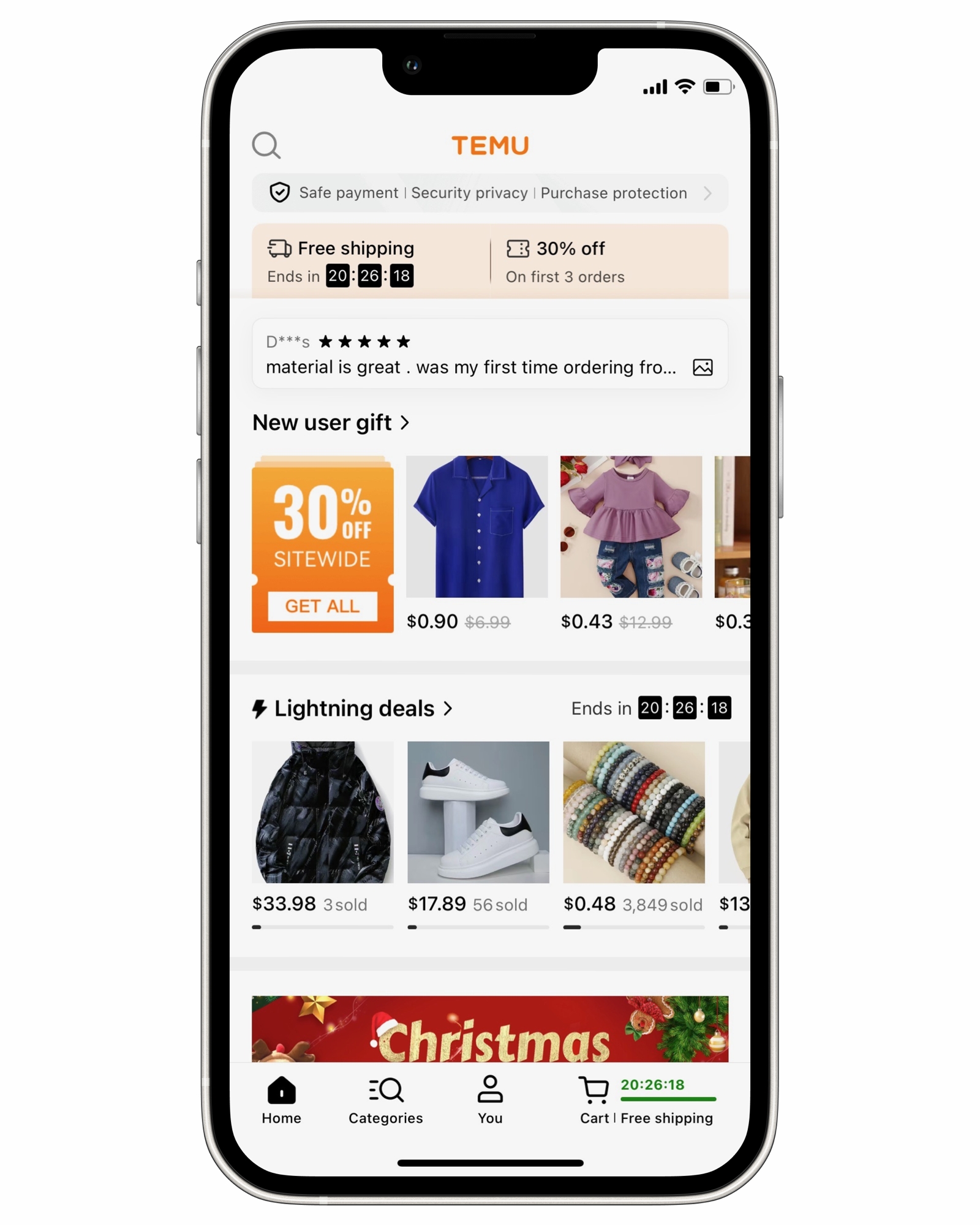 Temu competes with AliExpress and Wish – just like theirs, its value proposition is very cheap goods that ship in a week or less. For example, the most popular item in the Shoes category is the $3.99 slippers that sold nearly 30,000 units. Identical products at similar prices are available on AliExpress and Wish, but the item costs more than $15.00 on Amazon.
"Why buy a $40 bikini made in America when you can buy a $4 bikini directly from China? For that matter, why buy a $20 bikini made in China but imported by a U.S. company like the Gap when you can buy a $4 bikini directly from China?" in 2018, Alana Semuels wrote for The Atlantic. Shein has been the most successful at bringing this vision and, unsurprisingly, has become the biggest digital-only clothing retailer.
Temu was ranked the No. 1 shopping app on the iPhone app store on Monday, October 17th. Ahead of Amazon, Shein, and Walmart. It has been in the top 10 on iPhone and Android app stores for over a week. Temu's quick rise to the top is driven almost exclusively by advertising. The app hasn't gone viral on social networks. Quite the opposite, it has attracted little attention from influencers or users.
Very few apps make it to the top of the most-downloaded list. It had the same incumbents – Amazon, Walmart, Target, eBay, Nike, and Etsy – for years. While ranking doesn't capture retention (Wish was the most-downloaded app for years but also had high churn), Temu is aggressively growing its user base even if the current app is only an early version.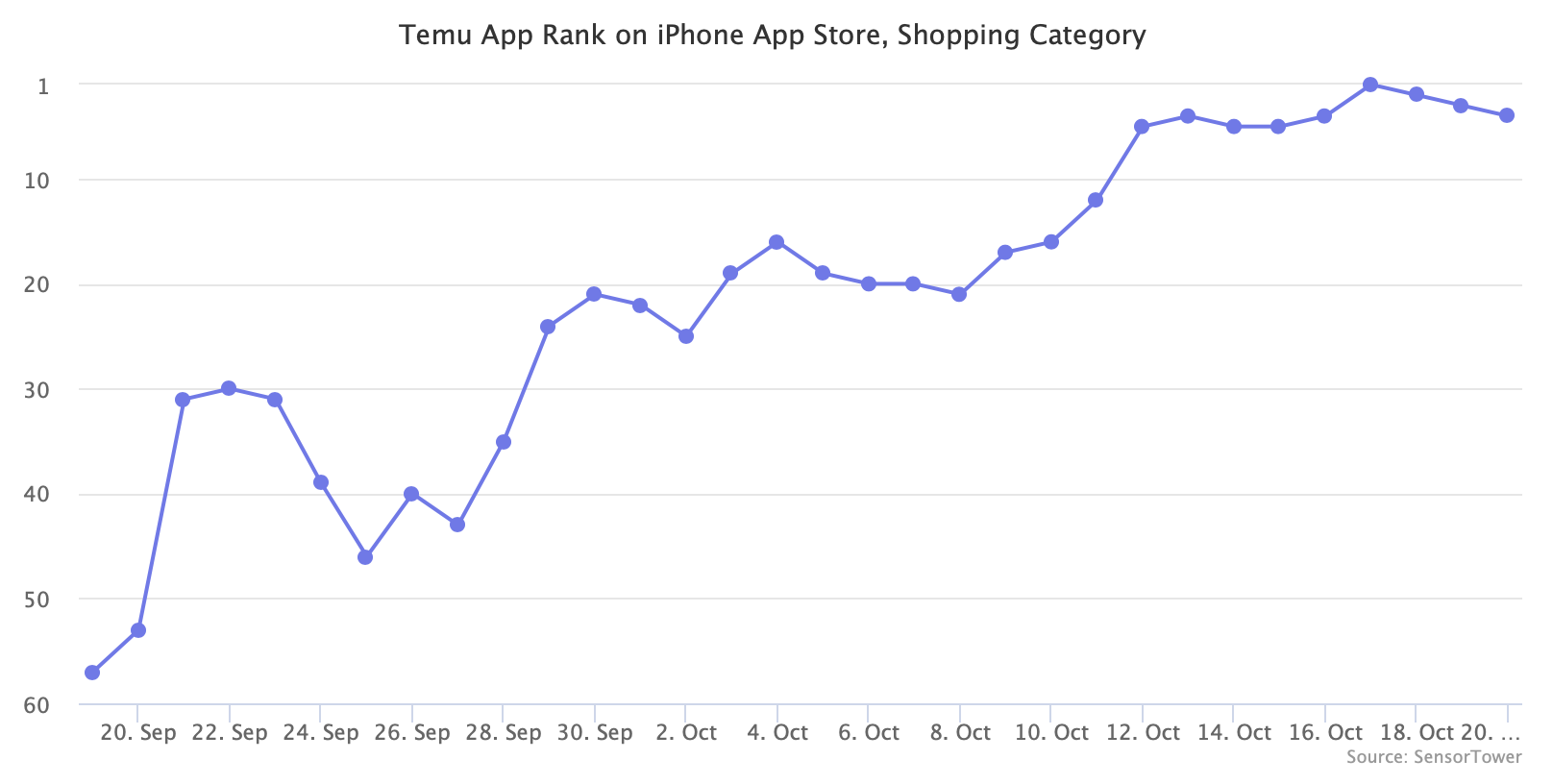 Pinduoduo is one of China's e-commerce giants that has risen in prominence and market share over the past five years. It processed $383 billion in GMV from 868 million active buyers in China in 2021. Pinduoduo built its business on mobile-first, group buying, social commerce, gaming, and consumer-to-manufacturer (C2M). It famously allowed users to recruit friends and family to buy at a discount, but its greatest strength is its supply chain.
Pinduoduo hasn't brought most of those innovations to the U.S. with Temu yet. Temu today is a primitive shopping app that offers little to consumers that competitors don't already provide, and thus, it didn't attract much social media attention. They are starting with surfacing the over 10 million sellers on Pinduoduo to shoppers in the West. The goal is likely loftier than that – it ultimately doesn't want to compete with AliExpress and Wish to be the cheapest; it hopes to disrupt the U.S. as it did in China a few years ago.
Juozas Kaziukėnas


© Marketplace Pulse 2022